Words of Hope
Return to Blog
The Journey (Jamal Yearwood)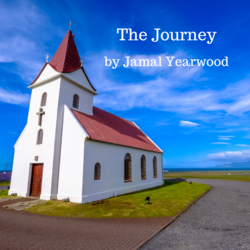 Her journey started at the beginning of time. Birthed in the garden, she was destined to be wed in the New Jerusalem. Her body designed by souls called to serve, souls filled with faith, hope, belief, and love. Her growth was brought forth as her message traveled on the wind brought forth from Heaven and spread across the earth.
She's not a building, but a spiritually inclined being. Her only reason for living is to praise and glorify her Future Husband and to spread His love to all men in every generation. Her dress glows with the radiance of grace and unmatched beauty. It's a trail so vibrant, that there is no question of where she has been. She wears a crown adorned with the jewels of compassion and forgiveness. She has been tried, tested, and is an overcomer - totally reliant upon the words spoken by her Future Husband. She is not always happy but is never without joy. For the day of her marriage is near!
The tears she shed as He came, suffered and died, shall all be dried. Temptation shall be no more. There shall only be the lifting of voices in praise and thanksgiving, for He rose again! She shall finally stand before the altar of God to spend eternity with her Lord and Saviour Jesus Christ. Oh, what a day of rejoicing that will be - for She is God's Church!!!